Manufacturing Web Site Design
We have developed over 200 web sites for a wide variety of manufacturers, both large and small.
Aspen Aerogels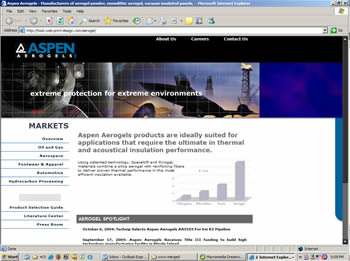 Aspen Aerogels is a specialty insulation product line with space research, acoustics and automotive applications. This will be a future IPO, and wanted to look like a Fortune 500 player.
| | |
| --- | --- |
| Manufacturing Industry | $$ |
| | |
| --- | --- |
| More Sample Manufacturing Industry Web site designs | $ |

Portfolio by Market
Corporate Web Design
:
Small Business Website Design
:
Manufacturing Web Site Design
:
Banks & Financial Web Design
Corporate & Construction Website Design
:
Colleges & Education Web Site Design
:
Leisure & Home Improvement Web Design
Software & Telecom Website Design
:
Retail & Professions Web Site Design
:
WBT/CBT Design
:
Internet Marketing

Inspect Our Client List