Corporate Website Design
For companies who are focused on providing services rather than products, image and identity remains key in establishing and enhancing brand identity and awareness.
We have also helped many consulting and professional services companies find their way on the Web. Companies that provide consulting for the high tech, training, medical and human resource fields have all benefited from a low cost yet very effective web site design.
Velocity Web Host Design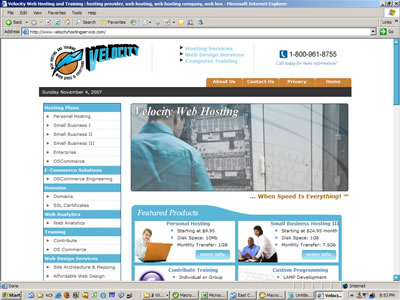 Velocity is partnered with one of the largest IBX™ (Internet Business Exchange) server hubs in the world. Providing speed, reliability and consistent uptimes, we helped with their overall branding and design.

view this site
| | |
| --- | --- |
| Other Web Design Business Services | $ |
| | | |
| --- | --- | --- |
| Acuity | Shain & Associates | Great International Travel |
| Better Homes | Plymouth C of C | ScanPoint USA |
| Electrical Dynamics | Rivco Corporate | JGM-DAAL |
| PAPTOT | Holiday Station | Elm Hill Labs |
| Interstate Electrical | Leading Consultants | Ogden Wells |
| InterBioLab | Affordable Hearing | Lomedco |
| JP Stewart | Digital Business | Hallenbeck |
| Farrell | HR Hotline | ABS |
| O'Donnel Funeral Home | ErgOutreach | Al Beau Stables |
| Proxinome | Write Angle | |

Portfolio by Market
Corporate Web Design
:
Small Business Website Design
:
Manufacturing Web Site Design
:
Banks & Financial Web Design
Corporate & Construction Website Design
:
Colleges & Education Web Site Design
:
Leisure & Home Improvement Web Design
Software & Telecom Website Design
:
Retail & Professions Web Site Design
:
WBT/CBT Design
:
Internet Marketing

Our Client List